At the meeting with investors in Nghe An, Prime Minister Nguyen Xuan Phuc reminded that economic development cannot badly affect the environment…
On March 10th morning, in Vinh City, Nghe An Provincial People's Committee held the 10th meeting with investors with the participation of more than 800 delegates. Attending and directing the meeting, Prime Minister Nguyen Xuan Phuc said that Nghe An, with a population of nearly 4 million people, has a large area but only 11,000 enterprises, averagely 280 people per enterprise, while Binh Duong and Lam Dong is only 170 people/ enterprise.
The Prime Minister emphasized that to develop the economy, the province should be more active in linking with other localities in the region, especially big economic centers such as Hanoi, Ho Chi Minh City.
Nghe An should continue to encourage, create favorable conditions for private economic development, invest in infrastructure, industrial parks, airports and seaports, etc. In that, the province should implement a project upgrading Vinh Airport early in order to open more international flights, bringing tourists directly to the province. The population of Vinh City must reach one million people.
The Prime Minister also affirmed his determination to build up a more honorable and creative government to serve the people, maintain macroeconomic stability. "Nghe An cannot be subjective, satisfied even little with the initial results achieved because we are still poor, there are many issues to develop the country", the Prime Minister reminded.
The head of the government stressed that to promote the economy, Nghe An should build a more active government – the dialogue government, simultaneously require investors to keep their commitments, not to cause project delays and suspensions. Investors must associate economic development with environmental protection, must have the social responsibility.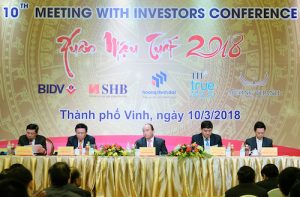 At the meeting, the Prime Minister also witnessed Nghe An granting certificates of investment registration for nine projects and signing 16 memorandums, investment cooperation.
On behalf of the Nghe An government, the Provincial Party Secretary Nguyen Dac Vinh received instructions from the Prime Minister, sent thanks to the contributory feedbacks of the delegates and enterprises.
Discussing on the sidelines of the meeting, Mr. Nguyen Canh Binh (Deputy General Director of the Asia Pacific Central Research Centre) said that to develop, Nghe An should organize more activities relating to mental activities, develop officials and young leaders in the province by establishing youth leadership training centers.