General Introduction
Yen Binh urban, industrial, agricultural and services complexes project (called Yen Binh Complex) is invested by  Yen Binh Investment and Development Corporation (Yen Binh Company) and also provided to plan on an area of over 8,000 ha under two districts which are Phu Binh and Pho Yen, in which the area for developing project is 1000 ha. This location is the center of the 5 major cities including Hanoi, Thai Nguyen, Bac Ninh, Bac Giang and Vinh Yen within a radius of 30km. Thus, Yen Binh complex has great advantages in mobilizing resources and connections to urban, major markets in the region by land, air, rail, and waterways transport.
INVESTED CAPITAL
Yen Binh Industrial Park Project: 3,820 billion dong.
Yen Binh Industrial Service Urban Area: 1,556 billion dong.
PROJECT'S DURATION
Duration of project activities is 50 years since the Investment Certificate is granted
SCALE
Yen Binh complex area (8.009ha) has been planned as a smart community, within which 1000ha is intended for major projects
Current information about zones and parks in Yen Binh Complex
Samsung
Starting with Samsung as a leading company, rear supporting projects, including University, various logistics facilities, cultural facilities and sports facilities are established in Yen Binh Smart Community and are optimized for IT industry.
Samsung Group has leased over 200 ha and expanding over 100 ha at Yen Binh Industrial Zone to develop Samsung High Tech Complex with the registered capital up to 2015 of USD 6.4 billion.
The first phase of the Project is expected to attract about 100,000 labors up to the end of 2015.
Samsung Electronics, a leader in the IT industry, will be a promoter for the Yen Binh Smart Community, making it a front-runner in the industry, developing better products together.
Supporting Industrial zone
Yen Binh also positively reflected in the master plan, including plans for apartments for workers (Housing For worker) who work in this place.
FAVORABLE NATURAL CONDITIONS
The project zone has a stable climate, geologic, hydrologic conditions along with the beautiful landscape. warm atmosphere, rarely affected by flooding and non-affected by the earthquake.
SKILLFUL HUMAN RESOURCES
Yen Binh Smart Community Located Between the Two Biggest Education Centers Of Vietnam
(Hanoi And Thai Nguyen) Which Supply A Source Of Skillful Labors.
HIGH ACCESSIBILITY
While only about 20km from Noi Bai airport, the site's still providing various means of transportation such as the lifeline highway road no.5, Da Phu river port on Yen Binh river, or using the traditional means by taking the railway which is connected to site at pho yen railway station.
INCENTIVES BY THE GOVERNMENT
Enterprises Investing In Yen Binh Smart Community are Given The Highest Investment Incentives By The Government And Thai Nguyen Province And Favorable Conditions For The Fastest Implementation Of Administrative Procedures.
ESSENTIAL INFRASTRUCTURE
Power Supply To Yen Binh Complex From 2 High-voltage Lines Of 500 Kv And 1 High-voltage Line Of 220 Kv. EVN Has Planned Two 220KV And Eight 110KV Power Stations To Serve Yen Binh Smart Community. Yen Binh Water Plant with the capacity of 300,000m3/day-night supplies clean water to Yen Binh Smart Community.
LOW-COST RAW MATERIAL
Nui Phao Mine Is Located Only 35km Away From Yen Binh, It Will Be Able To Provide For The Yen Binh. Smart Community Minerals Like Tungsten, Fluorspar. Bismuth, Copper And Gold, the Necessary things In The High Tech Industry For Creating Computer Memory Modules, Camera Lenses, Computer Screens, Lasers Etc.
SAMSUNG LEAD YEN BINH IT INDUSTRY
Samsung Electronics, A Leader In The IT Industry, Will Be A Promoter For The Yen Binh Smart Community, Making It A Front Runner In The Industry, Together Developing Better Products.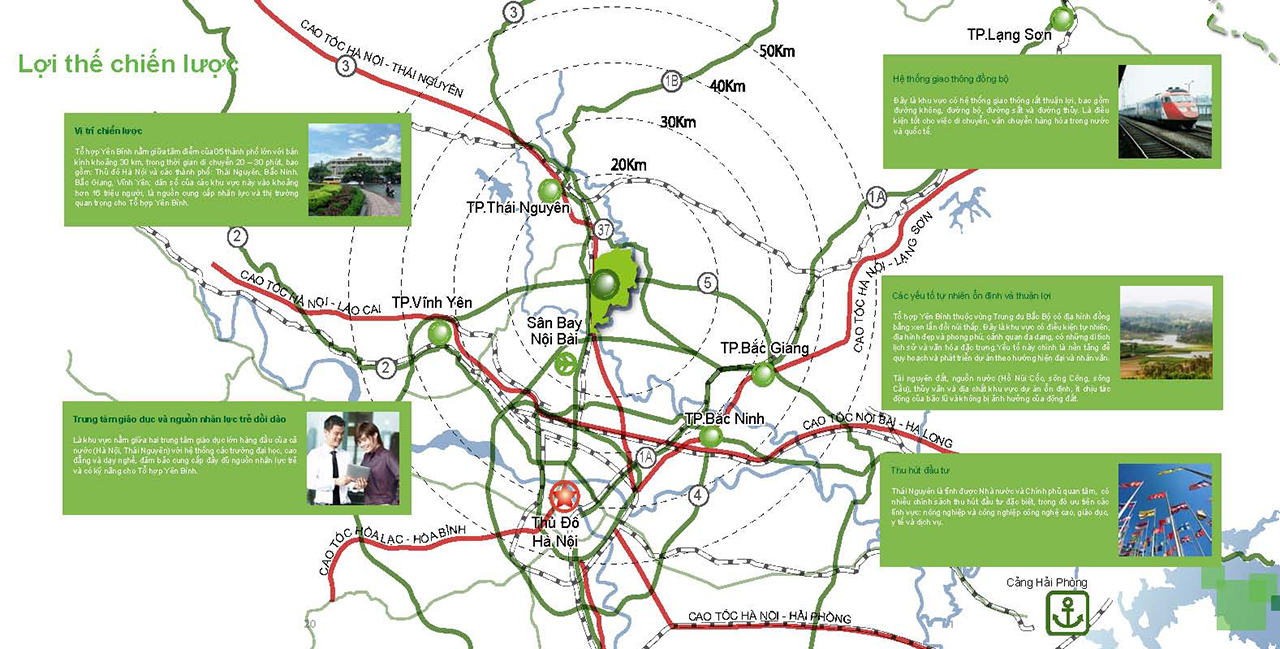 ESTIMATED SERVICE CHARGES
1. Industrial infrastructure  

usage  

charge 

(one-time payment)

50-60 USD/ m2 / 50 Years
2. Maintain and management fee 

(pay annually)

0.45 USD/m2/ year
3. Payment schedule 

industrial infrastructure usage charge 

After signing the Land lease agreement Deposit fee

: 10%

After receiving Investment Certificate: 30%

After signing the official Land rental Contract: 30%

After Handing over Land: 30%

4. Price of  clean water
0.514USD/ m3
5. Sewage  treatment charge ( pricing depends on water quality)
0.51 USD/ m3
7. Electricity charge

Normal Hour: from Monday to Saturday: 04:00 to 9:30, 11:30-17:00, 20:00-22:00. On Sunday: 4:00-22:00

None peak Hour: all days in a week: 22:00 – 04:00

Peak hour: From Monday to Saturday: 9:30-11:30, 17:00 – 20:00, On Sunday: No peak hour

1,685 VND = 0.08 USD/ kWh

1,100 VND = 0.05 USD/ kWh

3,076 VND = 0.13 USD/ kWh

Investors will pay monthly and directly to EVN by Vietnam dong
– The land-usage charge will follow Thai Nguyen Province's Policies

– The prices have not included the value-added tax ( VAT)
ESTIMATED SERVICE CHARGES
1. Industrial infrastructure  

usage  

charge 

(one-time payment)

50-60 USD/ m2 / 50 Years
2. Maintain and management fee 

(pay annually)

0.45 USD/m2/ year
3. Payment schedule 

industrial infrastructure usage charge 

After signing the Land lease agreement Deposit fee

: 10%

After receiving Investment Certificate: 30%

After signing the official Land rental Contract: 30%

After Handing over Land: 30%

4. Price of  clean water
0.514USD/ m3
5. Sewage  treatment charge ( pricing depends on water quality)
0.51 USD/ m3
7. Electricity charge

Normal Hour: from Monday to Saturday: 04:00 to 9:30, 11:30-17:00, 20:00-22:00. On Sunday: 4:00-22:00

None peak Hour: all days in a week: 22:00 – 04:00

Peak hour: From Monday to Saturday: 9:30-11:30, 17:00 – 20:00, On Sunday: No peak hour

1,685 VND = 0.08 USD/ kWh

1,100 VND = 0.05 USD/ kWh

3,076 VND = 0.13 USD/ kWh

Investors will pay monthly and directly to EVN by Vietnam dong
– The land-usage charge will follow Thai Nguyen Province's Policies

– The prices have not included the value-added tax ( VAT)
ESTIMATED SERVICE CHARGES
1. Industrial infrastructure  

usage  

charge 

(one-time payment)

50-60 USD/ m2 / 50 Years
2. Maintain and management fee 

(pay annually)

0.45 USD/m2/ year
3. Payment schedule 

industrial infrastructure usage charge 

After signing the Land lease agreement Deposit fee

: 10%

After receiving Investment Certificate: 30%

After signing the official Land rental Contract: 30%

After Handing over Land: 30%

4. Price of  clean water
0.514USD/ m3
5. Sewage  treatment charge ( pricing depends on water quality)
0.51 USD/ m3
7. Electricity charge

Normal Hour: from Monday to Saturday: 04:00 to 9:30, 11:30-17:00, 20:00-22:00. On Sunday: 4:00-22:00

None peak Hour: all days in a week: 22:00 – 04:00

Peak hour: From Monday to Saturday: 9:30-11:30, 17:00 – 20:00, On Sunday: No peak hour

1,685 VND = 0.08 USD/ kWh

1,100 VND = 0.05 USD/ kWh

3,076 VND = 0.13 USD/ kWh

Investors will pay monthly and directly to EVN by Vietnam dong
– The land-usage charge will follow Thai Nguyen Province's Policies

– The prices have not included the value-added tax ( VAT)